Recipes using sausages
This is the adaption of a recipe from an ancient Food & Home. It's been adapted so much I could claim it as an original and I served it with fried rice.
500g sausages of choice, sliced. I used Kensington Beef Chipolatas
olive oil for frying
1 red pepper, sliced
1 onion finely chopped
finely chopped or dried rosemary to taste
2 garlic cloves peeled and minced or chopped
2 400g tins chopped tomatoes
1/2 cup white wine
1 tbsp garam masala
black pepper to taste
Heat a large frying pan on high heat with some olive oil and fry the sliced sausages until brown, then set aside.
Now fry the pepper, onion and rosemary on a medium heat for about 10 minutes. Add the garlic and a minute later add the white wine and simmer to reduce.
Add the chopped onion, garam masala and sausages and simmer for 10 minutes.
Serve on the fried rice....or polenta, or whatever.
---
Baked Apples filled with Sausage Meat
Wash 6 large 'tart' apples. Cut a slice from the tops. Scoop out the cores and pulp, leaving the shells about 2cm thick.
Cut the pulp from the cores and chop it.
Combine with 1 cup of sausage meat. (Lincolnshire Sausage Meat is best for this)
Sprinkle the apple shells with 1 tsp salt and 2 tbsp brown sugar.
Fill them heaping full with the sausage mixture.
Bake in a prewarmed oven at 190 until tender.
Serve with flavoured rice.
---
This is a recipe from an old Woman & Home Magazine. We made it with Toulouse because I thought the garlic in the sausage would work well but you can use any quality sausage.
Ingredients
8 sausages.
1 onion, chopped.
4 garlic cloves, chopped.
2 tbs chopped fresh thyme
2 tbsp chopped fresh parsley
2 x 400g tins butter beans, rinsed and drained.
100ml red wine.
400g tin chopped tomatoes.
2 tbs tomato puree.
1 tbs olive oil
good pinch of sugar.
300ml water
Heat the oil in a large flame-proof casserole and add the sausages. Cook for 15 minutes, turning occasionally, until browned and cooked through. Remove and set aside.
2) Add the onion and fry for 5 minutes until softened and then add the garlic and cook for a further 2 minutes. Pour in the wine and bring to the boil allowing to bubble for 1 minute.
3) Add the tomatoes, tomato puree, sugar, thyme and 300ml of water. Bring to the boil, then reduce the heat and simmer for 20 minutes. Add the beans and the sausages and cook for 10 minutes until the sauce has thickened. Season to taste and stir in the parsley....that's it!

---
This is an adaptation of a Romanian dish called Mitetei but using Kensington Chipolatas.
1 packet of Kensington Chipolatas

2 garlic cloves
half a teaspoon of All Spice
about 350g green, yellow or red peppers
The day before blacken the peppers under the grill until all the skin blisters and you can peel them easily. Skin, seed and cut them lengthwise into strips. Marinate overnight in 3 parts olive oil to 1 part vinegar sprinkled with a little salt and pepper and a pinch of sugar.
Remove the skin from the Kensington chipolatas. Pound the garlic and mix it with the mince from the Kensington chipolatas along with the All Spice. Leave the mixture for an hour or so for the garlic and All Spice to blend.
Make sure that your grill is hot. With wet hands make the mince into stubby skinless sausages about 20mm thick.
Brush the grill with oil and put the little sausages about a reasonable distance from the heat...about 8cm. They will take between 7 - 8 minutes, turned once.
Serve straight from the grill on thick slices of bread topped with the marinated peppers.
| | |
| --- | --- |
| | (This recipe is adapted from one given by one of my most admired food writers, Elisabeth Luard.) |
---
Polpette al Finocchio in Ragu
In other words meatballs with fennel in a sauce. We've actually made most of this for you.
400g PJS salsiccia mince
1 tin Italian chopped tomatoes
100ml Passata
1 tbsp olive oil
150ml white wine
The pasta...I'd opt for Linguine.
Method:
Roll the salsiccia mince into balls about the size of a walnut.
Heat the olive oil in a frying pan and gently brown the meat balls.
Remove the meatballs and set aside. Sip some of the white wine and de-glaze the pan with the rest after it has reduced.
Add the tin of chopped tomatoes and passata plus salt and pepper to taste. Bring to the boil.
Add the meat balls and simmer with the lid half on for 30 to 40 minutes.
With about 15 minutes to go cook the linguine. Drain and stir in the
sauce and serve with the meatballs on top.

---
This is how I make it and I naturally use my own diced streaky bacon rather than a cheap pancetta because I know where it comes from. I learnt this method from Deidre Heekin and Caleb Barber and what really makes it work is only using egg yolks.
For 2 people you need:
4 egg yolks
3 or 4 tbsp olive oil or butter or a mixture of the two, which ever you prefer
half a cup of grated Grana Padano
about a third of a cup of diced streaky bacon

Spaghetti for 2
Salt & Black Pepper

Put salted water on to boil for the spaghetti. When it's boiling pour a little into a frying pan. Add the spaghetti to the saucepan and heat up the little bit of water in the frying pan until it boils and then add the bacon bits. They will initially blanch and then start to caramelise slightly as the water boils away...just what you want.
Add the egg yolks and olive oil to a large bowl...big enough to take the pasta as well. Then add the grated Padano on top. When the bacon bits are ready add them on top of the Padano as this will act as a barrier to prevent the heat reaching the egg. You can also add some chopped parsley if you like.
When the pasta is ready, drain but ensure it is not dry! Add to the bowl and stir rapidly into the sauce. Add salt and lots of black pepper to taste...a little more olive oil if necessary. Serve and devour immediately with a glass of red wine.
This really is fast food as it takes as long as the spaghetti takes to cook. It's even great for breakfast, as a snack...late at night after a show....any time.
---
Nigel Slater's sausages with summer vegetables recipe
A seasonal sausage meal that also works as a salad the following day
The Recipe
Slice two Romano peppers in half lengthways. Halve a red and a yellow pepper, remove the seeds and core, then cut each lengthways into four pieces and put them in a large roasting tin. Halve two courgettes lengthways, then cut each half into thick chunks. Halve six medium tomatoes, then add them to the courgettes and peppers in the roasting tin. Pour over six tablespoons of olive oil, season with salt and pepper (be generous) then add two tablespoons of chopped thyme and toss the vegetables in the oil. Tuck six plump and herby sausages among the veg. Bake for about 35-45 minutes at 180C, turning occasionally until you have tender vegetables, golden sausages and lots of cooking liquid. Serve with chunks of bread to soak up the gloriously fruity juices. Serves 3.
The Trick
It's all about the juices. Get hold of some great bread to accompany this. Sourdough possibly, or a light and airy ciabatta will do fine. The point here is not only the sizzling sausages and tender vegetables, but the sweet, thyme-scented cooking juices. Chunks of decent bread ensure that you won't waste a single drop.
The Twist
I avoided putting garlic in this, but you could if the mood takes you. You could also cook it more slowly, on the hob instead of in the oven, letting the mixture sweeten and concentrate. Cool, chill and serve as a salad the following day. An aubergine or two wouldn't go amiss either.
---
Toulouse Sausages with Lentils, Sweet Tomatoes and Smoked Bacon
(Recipe by Jacqui Gayler of 'Red')
Sausages and lentils are a marriage made in heaven. Here they combine to make a dish that's really earthy. Toulouse sausages are the perfect variety to use, but Cumberland sausages work just as well. Serve with a creamy potato and leek mash.
Serves: 4

Preparation time: 10 minutes
Cooking time: 20 minutes
You will need
2 tbsp olive oil
8-12 sausages
250g smoked bacon, cut into 1cm dice
1 medium onion, finely chopped
1 carrot, peeled and cut into small dice
150g sunblush tomatoes in oil, drained
1 tbsp clear honey
350g lentils
1 litre chicken stock
1 small bay leaf
1 small sprig of thyme
Salt and freshly ground black pepper
2 tbsp coarsely chopped flat-leaf parlsey, to serve
Method
Heat the oil in a heavy-based flameproof casserole over a medium heat. Reduce the heat, then add the sausages and fry for five minutes, turning occasionally until golden. Remove with a slotted spoon and set aside.

Add the bacon to the casserole and fry for seven to eight minutes, stirring occasionally until golden, then add the onion and carrot, stir and cook for two to three minutes until soft.

Add the tomatoes and honey and cook for two minutes more, then add the lentils, pour over the stock, increase the heat and bring to the boil.

Add the bay leaf and thyme, then return the sausages to the casserole, mix well, reduce the heat and simmer until the lentil have softened.

To serve, season with salt and pepper to taste and stir in the chopped parsley.


---
Ojja bil Mergaz (Tunisian Eggah with Sausages)
This recipe comes from Claudia Roden's famous book "A New Book of Middle Eastern Food"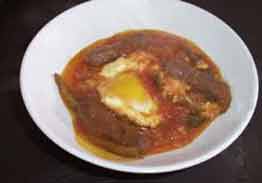 3 - 4 tbsp Olive Oil
4 Medium Potatoes, cubed or diced
1 - 2 tbsp Tomato Concentrate
1 tsp - tbsp Harissa
6 eggs
3 - 4 Cloves of Garlic
2 tsp Crushed Caraway Seeds
2 tsp Paprika
6 Small Spicy Sausages (sliced)
Salt to taste
Heat the olive oil in a large thick frying pan. Add the potatoes and sauté lightly. Add tomato concentrate, harissa diluted in a little water, the garlic, caraway seeds and paprika.
Pour in just enough water to cover and cook over a low heat for about three-quarters of an hour. Add the sausages and cook for a further 15 minutes.
Beat the eggs and pour them into the pan gradually, stirring constantly, until they set to a firm and creamy consistency or you can keep them whole. Season to taste with salt and serve immediately.
This is obviously designed for the Merguez but it would work just as well with Chouriço.
---
Salsiccia e Fagioli
This is a Tuscan recipe and is perfect using PJS Salsiccia. I'm not one for using dried beans, I'd rather open a tin!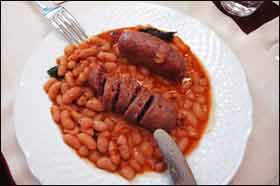 1 tin cannellini .......you could use 500g of dried cannellini soaked overnight.
3 garlic cloves peeled
2 sprigs of fresh sage
2 tbsp extra virgin olive oil
6 PJS Salsiccia......that's about 100g per person as each sausage is about 70g.
1 tin Italian tomatoes (chopped)
If you are using the dried beans you are going to have to cook them for about an hour to an hour and a half until the beans are tender and you must add 2 of the cloves of garlic and 1 sprig of sage after you have simmered them for about half an hour and removed any scum....add salt and pepper to taste.
With the tinned beans it is much easier, drain, add water plus the garlic etc and warm up.........
In a large saucepan add the olive oil and fry the sausages on a medium heat until brown on all sides...a light brown. Add the third garlic clove and the sage. As soon as it begins to heat up add the tin of chopped tomatoes. Simmer for about 15 minutes until the tomatoes have melted into a sauce.
Drain the warmed beans, reserve a little of the liquid, and add to the sausages etc. Check for seasoning and simmer for about 10 minutes. You can use the reserved bean water to thin the sauce if necessary.

This is a very popular Tuscan recipe and I have adapted it from one by Tessa Kiros.
---
The BEST Sausage Casserole
This is a wonderful comforting and warming dish! Use your favourite varieties of sausages to create the best Sausage Casserole and serve with rustic bread.
Serves 6
Prep time: 30 minutes
Cooking time: 50 minutes
Ingredients
1-2 tbsp vegetable oil
12 of your favourite pork sausages
6 rashers of smoked streaky bacon, cut into 2.5cm lengths
2 onions, thinly sliced
2 garlic cloves, crushed
1 tsp smoked paprika
1 x 400g can chopped tomatoes
300ml chicken stock
2 tbsp tomato puree
1 tbsp Worcestershire sauce
1 tbsp dark brown muscovado sugar
1 tsp dried mixed herbs
2 bay leaves
4 sprigs of fresh thyme
100ml red wine
1 x 400g can of mixed beans, drained and rinsed
Freshly ground salt & pepper
Heat a large lidded frying pan or wok and add the oil once heated add the sausages and cook on a low heat for 10 minutes until the sausages are evenly browned. Remove the sausages and set aside.
Now add the bacon to the pan and cook until brown and crisp, set aside with the sausages.
Add the onions to the pan and fry on a medium heat until softened, add more oil if necessary, stir often – this should take around 5 minutes. Now add the garlic and fry for a further 2-3 minutes.
Sprinkle the smoked paprika and cook for around 30 seconds.
Add the tomatoes, chicken stock, tomato puree, Worcestershire sauce, herbs and wine – boil and bring to the simmer.
Add the sausages and bacon and simmer with the lid on for 20 minutes stirring occasionally.
Now add the beans and cook for a further 10 minutes, stirring occasionally until the sauce has thickened.
Season to taste and serve with rustic bread.
Cooks tips
* This casserole freezes brilliantly.
*Add various flavoured sausages for more taste.
*Substitute red wine for white wine or if you don't want to add alcohol add water.
*Substitute smoked paprika for hot chilli powder.
---
Sticky Sausages with Potato Sweet Corn Salad
(Recipe from Good Food Magazine, July 2012)
You will need:
2 red onions, cut into wedges
8 PJS Lincolnshire Sausages1 tbsp olive
oil
700g bag baby new potatoes. Woolworth are producing some really great ones at the moment. Try the Ronaldo or the Mediterranean.
2 tbsp mayonnaise
2 tbsp natural yogurt
3 spring onions, finely sliced
198g can sweetcorn, drained
3 tbsp tomato chutney
Heat oven to 200C/180C . Toss the onion and sausages with the oil in a shallow roasting tin. Bake for 25 mins, shaking the tin once for even browning.
Meanwhile, boil potatoes for 12-15 mins until tender, then run under cold water and drain. Mix the mayo, yogurt, spring onions and sweetcorn. Thickly slice potatoes and stir through, then season.
Turn up oven to 220C/200C.
Add chutney to the sausages and onions. Cook for 5 mins more, until sausages are cooked and sticky.
Serve with potato salad.
---
We made this Penne Puttanesca last week with PJS Italian Salsiccia. I warn you, it's amazingly filling! The olives blend well with the tomato and the capers contrast with it.
Ingredients:
500g PJS Italian Salsiccia
1/4 Cup Extra Virgin Olive Oil
2 tbsp Butter
1 tbsp Crushed Garlic
1 1/2 Cups of Chopped Onion
1 tin Chopped Italian Tomatoes
1/2 a Red Pepper seeded and sliced
3 tbsp Chopped Fresh Basil
1 Cup Pitted & Sliced Black Olives
2 1/2 tbsp Capers
Obviously the Penne, about 500g.....and I'm not going to tell you how to cook that!
Fry the sausage on a low heat for about 8 to 10 minutes turning once. Then remove from the heat and cut them into bite-size portions. Don't forget it will take about 15 minutes to cook the penne.
In a large frying pan, the same one if you are me, add the olive oil, butter and garlic and when the butter is melted add the onion and cook for about 10 minutes over medium heat.
Then add the sausage, tomato, red pepper and simmer for 5 minutes, stirring occasionally.
Add the basil, and simmer for another 5 minutes and then add the black olives and capers and reduce the heat to low and simmer for another 5 minutes. Season with salt and black pepper.
Strain the penne in a colander and return to the pot and add the sauce, stirring gently until the penne is well coated.
Serve with grated Parmesan.
Theoretically this dish was supposed to be the one served up by the Ladies of the Night to their patrons. I'm not sure whether that was before or after the entertainment.

---
This is a really fantastic snack and so easy to do.
Approximately 15 PJS English Breakfast or Twickenham Chipolatas
2 tbsp Wholegrain Mustard
2 tsp Sesame Seeds
1tbsp Maple Syrup or similar.
Bake the sausages in the oven for 15 minutes at 180C. In the meantime mix the wholegrain mustard and maple syrup. Toss the sausages in the mustard & syrup mix and then in the sesame seeds. return to the oven for 5 minutes and serve.
---
The Bandit's Way with Sausages
The Bandit was an unknown food critic or maybe even a number of different people who used to always provide entertaining critiques, He/she had sampled my sausages at a restaurant and this was the response.
Roast sweet potato, parsnip, butternut, beetroot, onion. Winter earth tones. A pinch of Maldon. Et voila! Salt of the earth. Red and yellow pepper for colour and sparkle.
Under a seasonal blanket of cheese and mustard sauce. None of that "draped", "drizzled" or "on a pool of" nonsense. We're talking smothered. No hints of anything.
Cut the vegetables into chunky angular pieces. Toss in a little olive oil and into an oven preheated to 220C, for 25 minutes. Add sausage and peppers and bake for a further 15 minutes, during which time bring 125ml of cream to the boil. Add a generous teaspoonful of English mustard and about 80g of grated gouda to the cream. Whisk over low heat until smooth.
On a rack low under the grill, slowly grill the veg and sausage for about 10 minutes.
Smother vegetables and sausages with the cheese and mustard sauce. Sprinkle liberally with chopped chives.
---
Salsiccia all'Uva
(Sent to me by John Hudson, Sausages with Grapes)
Really simple but looks stunning and tastes wonderful. Frying grapes feels and sounds strange but it works. Try to find sausage with fennel.
4 PJS salsiccia sausages (serves 2 for a light lunch)
1 cup seedless grapes
Place the sausages in a frying pan and cook over medium heat for about 15 minutes, turning from time to time. When they are brown all over remove the sausages to a warm platter. Remove any excess fat (you want a teaspoonful, at most, in the pan) and add the grapes. Cook, stirring occasionally, until some of the grapes collapse. Slice the sausages into small bite sized pieces and add to the grapes. Stir for a couple more minutes to brown the sausage on all sides. Serve on a bed of lightly oiled penne.
---
Italian Salsiccia & Potatoes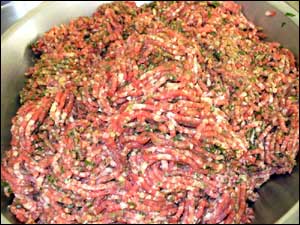 500g Italian Salsiccia
1/4 Cup Extra Virgin Olive Oil
2 Medium Potatoes, peeled and thinly sliced into rounds
1 Large Onion, sliced.
2 Green Peppers, seeded and sliced
1 tsp Dried Oreganum
1 tsp Dried Basil
1 tsp Crushed Garlic
Salt & Pepper to taste.
Fry the sausage for 6 to 8 minutes, turning once, only.
Cut the sausage into bite-size portions.
Cover the bottom of a clean frying pan with olive oil.
Fry the potatoes over a medium heat for 10 - 12 minutes, turning frequently.
Add the sausage, onion, green pepper, oreganum, basil, garlic, salt and pepper to the potatoes and cook over a lower heat, covered, for 15 to 20 minutes or until the potatoes are tender, turning occasionally.
---
Poor Man's Cassoulet
This is a modern version of an original recipe that appeared in Delia Smith's book Frugal Food and I suppose whilst it lacks sophisticated ingredients like preserved goose it's still very much on the theme of the original.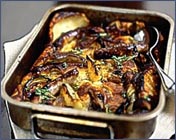 Serves 4-5
Ingredients
10 Saucisse de Toulouse
350 g dried cannellini beans
1 dessert spoon olive oil
2 x 130 g packs cubetti di pancetta (or you can use diced bacon)
3 medium onions, peeled and thinly sliced
3 cloves garlic, peeled and finely chopped
1 level tablespoon fresh thyme leaves, plus a few sprigs
2 bay leaves
2 level tablespoons tomato purée
110 g fresh white bread crumbs
salt and freshly milled black pepper
Pre-heat the oven to 140°C.
You will also need a 3.5 litres capacity flameproof casserole.
First soak the beans. All you do is place them in a saucepan, cover with plenty of cold water, bring to the boil and let them boil for 10 minutes. Then turn off the heat and let them soak for 2-3 hours and after that drain the beans in a colander.
Then in the flameproof casserole, heat the oil over a medium heat and brown the sausages, turning them occasionally because they need to be a nice golden brown colour on all sides – this will take 7-8 minutes. After that remove them to a plate, then add the pancetta to the frying pan, cook, turning the heat up and tossing it around for 5 minutes, until it's golden at the edges. Now using a slotted spoon, transfer the pancetta to join the sausages. Turn the heat down to medium, then in the juices left in the pan, soften the onions for 10 minutes, stirring from time to time.
After that, toss in the garlic and cook for another minute. Next put a third of the beans into the cooking pot followed by half the onions, sprinkle with a third of the fresh thyme leaves and season well with salt and pepper, then add half the sausages and pancetta, followed by a third more beans, thyme and seasoning, then the remaining sausages and onions and finally the rest of the beans and the remaining thyme, pushing sprigs of thyme and bay leaves in amongst everything.
Now measure 850 ml hot water, whisk in the tomato purée and pour this over the beans, cover with a lid and bake on the oven's centre shelf for 2 hours. Then take the lid off, sprinkle the breadcrumbs all over the top and bake (without a lid) for a further hour until the beans are completely cooked through. This is very rich and hefty, so a green salad is really all it needs to go with it.
This recipe is taken from Delia Smith's Frugal Food.
Source: www.deliaonline.com/recipes/poor-mans-cassoulet
---
Toad in the Hole

Batter: 285ml milk

115gm plain flour
3 eggs
Pinch of salt
Toad: 8 Lincolnshire Sausages
Couple of sprigs of rosemary
Cooking Oil

Mix the batter ingredients together and set aside.
Put 1cm of cooking oil into a thin baking tin and place on the middle shelf of the oven at its highest setting. (Probably at 240 – 250 degrees)
The oil will almost certainly spatter about a bit so you might like to put some foil or a larger tin in the bottom of the oven to minimize the mess.
When the oil is very hot add the Lincolnshire Sausages. Allow them to reach a lightly golden colour.
Take the tin out of the oven and very carefully pour the batter over the Lincolnshire Sausages. Add the sprigs of rosemary.
Put the tin back in the oven and don't open it for 20 minutes as you want the Yorkshire pudding to rise. Remove when crisp and golden.
I'll leave the gravy up to you.
---
Lesley Stephenson's Recipe using Sausages
Here is an interesting recipe sent in by Lesley Stephenson:

I have a simple recipe which I took originally from Good Food BBC for a chicken dish and just used sausage instead. You are welcome to it as follows:
In a largish oven pan preferably non-stick. Put small olive oil to grease bottom. Lay in 8 sausages and turn to coat all over. In a separate bowl mix potatoes washed but unpeeled (I like the Mediterranean variety) chopped in chunks, onions chopped in chunks, really squashy tomatoes (ideal for using the last few that always go soft) and an aubergine chopped in chunks (If you don't like aubergine use vegetables of your choice. My Dad loved Brussel Sprouts instead.) Add salt, pepper, cumin or other herbs of your choice and 2 tablespoons of olive oil. Toss this lot together and dump on top of the sausage. Slap into a 180 oven and cook for 45 mins. Check then if potatoes are becoming tender, toss again and make sure sausages arrive on the top so they can brown. Add 200mls of red wine and back in the oven at 200 for 20 minutes. Test the potatoes again for done-ness. The tomatoes and aubergine literally melt into a lovely sauce with the olive oil and wine. It is such an easy dish and makes a bake ahead meal that keeps for ages. Being on my own now I find this dish can provide 4 meals spread out during the week - all from one pack of sausage !
---
Sicilian Sausage Soup

You don't need many ingredients for this wonderful warming soup.
500g Italian Salsiccia (removed from casings)

1 1/2 cups of chopped onion
1 tbsp olive oil
5 cups chicken stock
1 can of Italian tomatoes
1 tsp fresh basil (chopped)
1 cup pennoni or rigatoni....in fact any largish pasta you fancy

Cook the salsiccia and the onion in the olive oil in a largish saucepan on medium heat for about 10 minutes or until the onion turns transparent, stirring occasionally with a wooden spoon to break up the salsiccia.
Chop up the tomatoes reserving any juice in the tin and then add to the saucepan with the chicken stock, and the basil and
bring to the boil.
Add the pasta and salt and pepper to taste.
Reduce the heat and allow to simmer for 25 minutes, partially covered, until the pasta is tender.
You can add a little chilli if you want to pep it up a bit.

---
Mediterranean Stuffed Cabbage
This is an adaption of a Malay Cabbage Frikkadel Recipe and it's satisying, filling and easy to make.

Ingredients
2 large onions, sliced
5ml white sugar
butter or oil
2 cloves garlic, crushed
2ml ground ginger
4 cardamom seeds, crushed
4 whole cloves
4 all-spice berries
1 stick cinamon broken in pieces
3 large, ripe, tomatoes, skinned and chipped
1 cabbage

A quantity of Italian Sasiccia Sausage Meat

In a large saucepan saute the onions and sugar in butter or oil for about 5 minutes or until transparent. Add the garlic, ginger, cardamom seeds, All Spice, cloves and cinnamon and top with the tomatoes. Switch off the stove and set the mixture aside.
Remove the cabbage leaves from the head, wash well and place in a large dish. Pour boiling water over the leaves and leave until they have slightly softened but are still crisp. Drain them.
Shape the sausage meat into balls and wrap each ball in a cabbage leaf.. Pack them into the saucepan , on top of the tomato mixture with the seam-side down. Switch on the stove and braise the cabbage parcels for about 45 minutes or until the cabbage and meat are cooked and the tomato sauce is slightly brown and cooked.
Serve with rice of your choice.
---
Mustard, Cabbage And Gourmet Sausage Hot Pot
350 g Lincolnshire Sausage

200g spring onions, halved
2 cloves garlic, crushed

2 tsp cumin seeds
600g cabbage, thinly sliced
750ml chicken stock
2 tbsp wholegrain mustard
3 tsp fresh thyme
2 tsp brown sugar
300g can butter beans

Heat a non stick frying pan to medium heat with a little olive oil in the pan.
Cook the sausages in the pan for 10 minutes or until cooked through, turning occasionally. Then remove.
Add spring onions to pan juices, cook over medium heat for 3 minutes or until lightly browned, stirring occasionally.
Add garlic and cumin seeds, stir for 1 minute and then add cabbage, chicken stock, mustard, thyme and sugar, cover and cook over medium heat for about 10 minutes until the cabbage and spring onions are tender.
Cut sausages in half lengthways and add to the pan with drained beans, cover and cook until heated through.
from Simply Lite Food, Women's Weekly Cookbooks.
---
Cumberland Toad

This recipe comes from Border County Foods in Cumbria.
Ingredients
1 metre 10cm of Cumberland sausage
125g cake flour
salt and pepper
2 x eggs
300ml milk
3 x tbsp fresh parsley chopped
6 x button mushrooms sliced
2 x tomatoes, sliced
Method
Cook sausage in oven for 15 minutes at 200 C until browned.
Make the batter, place flour salt and pepper in mixing bowl. Make a well in the centre, add the eggs and a little of the milk. Whisk gradually, add remaining milk and parsley to make a smooth batter using the hot fat from the sausage.
Place mushrooms and tomatoes around the sausage in the roasting tin. Pour the batter over and return to the oven. Cook for 30-35 minutes or until the batter is well risen and golden brown.