Sausages
Sausages
---
The Smokey
The Smokey is a smoked pork sausage that is ready to eat as a sliced cold meat, made into a salad with mayonnaise or sliced and added to soup.
It is slightly spicy and has a good texture which is what makes it so versatile. A packet of three is approximately 250g.
---
Merguez Sausage
The Spicy North African Lamb Sausage which originates in Berber Cuisine.
It became popular in France through immigration from Algeria and is also popular in the UK.
---
Lorne Sausage
The traditional Scottish "Square Sausage".. It's half beef and half pork and lightly spiced. It is our only non gluten-free product as it needs homemade breadcrumbs to keep it light. It's perfect under a fried egg. As someone said to me,"I love it as it keeps the fried egg hot".
---
Lincolnshire Sausage
The taste of the Fens.! A linked medium-cut pork sausage which is traditionally flavoured with sage and thyme. It also includes parsley and spices.
.
---
Cumberland Sausage
This is a non-linked, continuous pork sausage in a thick casing with a hint of marjoram and a slightly peppery flavour.
---
English Breakfast Sausage
A linked, medium –cut sausage of chipolata size with a mild and delicate flavour. Especially designed to match fried eggs, be eaten with tomato sauce, a traditional brown sauce or mustard. Perfect as an accompaniment to roast poultry.

---
Saucisse de Toulouse
Toulouse Sausage is the basic French Garlic Sausage and is a standard component of Cassoulet.
Toulouse Sausage has a much higher meat content than most sausages because it mustn't break up when casseroled.
Many of our customers have it as their sausage of choice at breakfast. They love that meatiness slight pepperiness with more than a hint of garlic. It's also wonderful grilled in a roll with lashings of Dijon mustard.

---
Free State Boerewors
Our own Free State-style traditional sausage. It's 70% beef and 30% pork shoulder with coriander, a hint of cloves and other herbs and spices.
---
Italian Salsiccia
Made in a Southern Italian style, this salsicca includes fennel seeds, parsley and a hint of basil.
---
Twickenham Chipolata
An English breakfast chipolata that is mild, fine minced with an enhanced pork flavour.
---

Kensington Chipolata

A Beef Chipolata that is finely minced with a mild spicing and a hint of cloves.
---
Mexican Chorizo
This is a highly aromatic fresh pork sausage enhanced with cumin, cinnamon and coriander as well as paprika, chilli and other spices.
---
Other Products
---
Dry Cured Streaky & Back Bacon
Traditional Dry Cured Bacon is a completely different product to the bacon you would normally buy as the process takes much of the moisture out of the meat so there is no water in your frying pan and no mystery white liquid. It also cooks much faster. As we tend not to have stock please give us a week to deliver.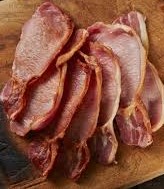 ---
Smoked Chicken Breast
Fresh chicken breast hot-smoked so that it is cooked through but remains moist inside with a subtle smoky flavour.
---
Italian Salsiccia Mince
Our Salsiccia is made in a Southern Italian style with the distinctive "liquorice" taste of fennel seeds.
The perfect basis for a pasta dish.
---
Lincolnshire Sausage Meat
The perfect sausage meat for sausage rolls, Scotch eggs etc
---
Smoked Loin Ham
This is probably our least known product but it does have a faithful following. The average ham weighs 1,5kg though we do supply a minimum of 500g. We will slice it if asked to do so.
---
Whole Smoked Chicken
We do a few of these every year and will quote per chicken if you require one.
---
Beef Burger

Our 160g Burgers are gluten and preservative free and are lightly spiced. We can produce custom burger sizes on request.. You may even need a cocktail size, what the Americans call "sliders".