Sausages
Sausages
---
Elizabeth's Children's Sausage
Elizabeth was three years old and wouldn't eat sausages so her mother approached us to make a sausage she might eat and she loved them. Elizabeth's sausage is cocktail size and minced twice so that it does have some texture but the filling is not an emulsion. It maybe a little too bland for adults though Elizabeth's parents enjoy them.
.
---
Lincolnshire Sausage
The taste of the Fens.! A linked medium-cut pork sausage which is traditionally flavoured with sage and thyme. It also includes parsley and spices.
.
---
Cumberland Sausage
This is a non-linked, continuous pork sausage in a thick casing with a hint of marjoram and a slightly peppery flavour.
---
English Breakfast Sausage
A linked, medium –cut sausage of chipolata size with a mild and delicate flavour. Especially designed to match fried eggs, be eaten with tomato sauce, a traditional brown sauce or mustard. Perfect as an accompaniment to roast poultry.

---
Saucisse de Toulouse
Toulouse Sausage is the basic French Garlic Sausage and is a standard component of Cassoulet.
Toulouse Sausage has a much higher meat content than most sausages because it mustn't break up when casseroled.
Many of our customers have it as their sausage of choice at breakfast. They love that meatiness slight pepperiness with more than a hint of garlic. It's also wonderful grilled in a roll with lashings of Dijon mustard.

---
Free State Boerewors
Our own Free State-style traditional sausage. It's 70% grass-fed beef and 30% pork shoulder with coriander, a hint of cloves and other herbs and spices.
---
Italian Salsiccia
Made in a Southern Italian style, this salsicca includes fennel seeds, parsley and a hint of basil.
---
Twickenham Chipolata
An English breakfast chipolata that is mild, fine minced with an enhanced pork flavour.
---

Kensington Chipolata

A Beef Chipolata that is finely minced with a mild spicing and a hint of cloves.
---
Mexican Chorizo
This is a highly aromatic fresh pork sausage enhanced with cumin, cinnamon and coriander as well as paprika, chilli and other spices.
---
Other Products
---
Dry Cured Streaky & Back Bacon
Traditional Dry Cured Bacon is a completely different product to the bacon you would normally buy as the process takes much of the moisture out of the meat so there is no water in your frying pan and no mystery white liquid. It also cooks much faster. As we tend not to have stock please give us a week to deliver.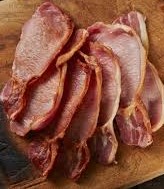 ---
Smoked Chicken Breast
Fresh chicken breast hot-smoked so that it is cooked through but remain moist inside with a subtle smoky flavour.
---
Italian Salsiccia Mince
Our Salsiccia is made in a Southern Italian style with the distinctive "liquorice" taste of fennel seeds.
The perfect basis for a pasta dish.
---
Lincolnshire Sausage Meat
The perfect sausage meat for sausage rolls, Scotch eggs etc
---
Smoked Loin Ham
The return of an old favourite. We are now able to produce smoked loin ham again We have always produced them whole, on average 1,5kg, but we would be willing to slice it for you if you prefer and we like our own ham thinly sliced.
---
Whole Smoked Chicken
We have been asked to smoke half a dozen chickens for a customer about once a year but we have never listed smoked chicken as a product until now.